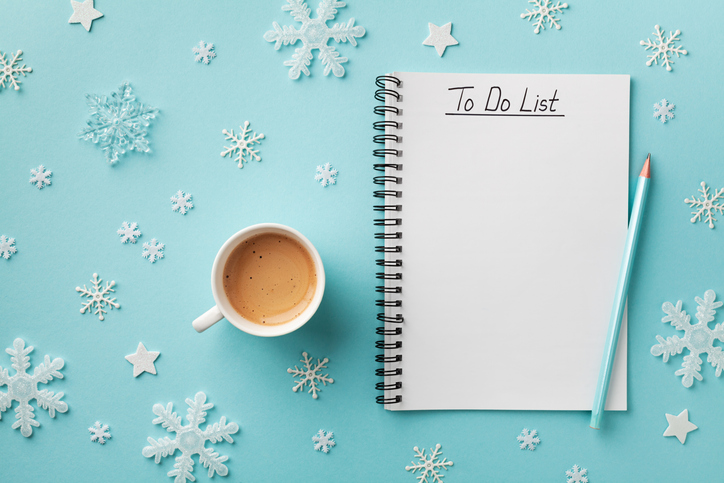 Keeping your cool at Christmas time
Now that the shops (well, ok those that are still open!) have had all the Christmas gear out for a good few months now, and we are well and truly in the run up to the 'big day', I thought it would be a good time to reflect on how I have prepared for Christmas in the past so that I can take a few of the lessons that I have learned from those moments and have a more chilled experience this time around, especially considering the fact that it has turned out to be an incredibly turbulent and inconceivable year!
I want to be able to kick back and relax come 25th December so, as a bit of a 'note to self', here are some of the points I am going to bear in mind in the coming weeks to avoid burning out before Christmas Day. I hope that these will also prove to be helpful tips and questions for you to consider as you go about making your own preparations.
It is never too early to start preparing!
I'll be honest and confess now that my countdown to Christmas begins some time towards the end of September because I'm a big kid at heart and this is my favourite time of year!  Of course, the lockdown announcement propelled me straight into action and I'm now much more prepared than I usually am at this point in the year.  The Christmas lists have been drafted up, the online shopping is underway, and I'm keeping the delivery firms busy.  
I have adopted a 'get things when you see them' mantra this year as I have a habit of thinking 'I'll get that later' only to find that the item is then out of stock or is no longer in the sale and is much more expensive (how annoying!) I know that some of you will already have commenced your Christmas shopping and I too prefer to start the preparations at least a couple of months before Christmas which also helps to spread the cost and ease some of the stress.
So, my advice is to start as early as you possibly can. If you see something that would be great for Christmas then get it while it is available (even if it is earlier in the year).  I've been known to start shopping as early as August and I know some very savvy people who get started straight after Christmas, taking full advantage of the January sales and saving themselves money in the process.
Create a plan of action
Write a list of everything you need to buy and do before Christmas (start by getting it all out of your head and jotting it down onto paper).  I literally write down every little task or purchase that I need to make, assigning myself completion dates, and allocating budgets. My plan is more or less stuck to my forehead at this time of year and I tick things off as soon as I complete them which helps to keep me on track.
You can create a spreadsheet or other document for your plan or invest in one of those snazzy Christmas planners (there are some handy Christmas planning printables available through Pinterest and elsewhere online).
You can also download this free template to get your ideas flowing and to help you start prioritising your tasks, planning your activities, and thinking about how you are going to maintain your wellbeing in the lead up to Christmas: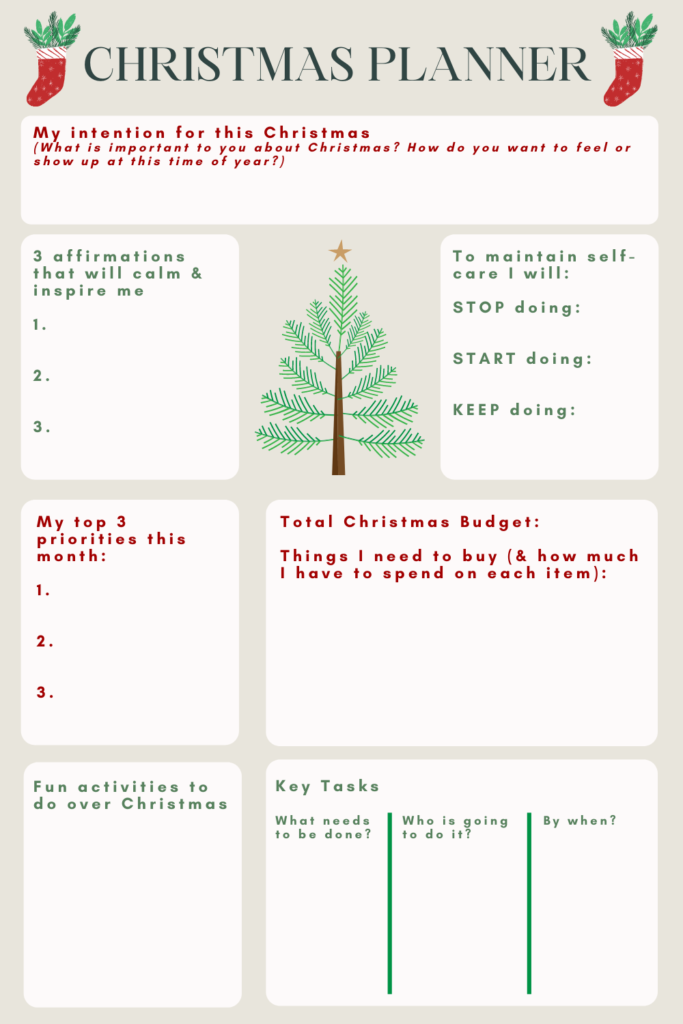 Don't take it all on yourself
Rope in as many helpers as you need (after all even Santa has his elves!) and let them know what they can do to make sure the preparations all run as smoothly as possible.  That could mean distributing the routine chores evenly amongst family members and delegating at least some of the tasks to them (yes, even if it means they won't do it exactly the way you would…)
Agree everything in advance
Although it is supposed to be 'good will to all men' and a relatively peaceful time of year, disagreements can arise from the many decisions that need to be made. We bicker and deliberate over how much to spend, what presents to buy, where we are going to eat Christmas dinner, what we are going to eat, and who is doing what.  So, as much as possible, agree your Christmas budget upfront including how much you'll spend on each person (and stick to it…ahem!), get the kids writing their wish lists nice and early, set those boundaries on what you are willing and not willing to do this year, and make any necessary arrangements with friends and family members in advance so that you are all clear on what you are doing and, importantly, how you are going to connect with each other this year (because who knows what we will be allowed to do come 25 December?!)  
Once you have your Christmas budget established keep monitoring it (have a spreadsheet at the ready), don't stray from your present list too much (especially if, like me, you get easily tempted into buying those stocking filler gifts that all add up or low quality items that just break or get thrown away), and try and make savings elsewhere if you overspend.
Keep on top of the present buying
Present buying may be a bit different this year!  To avoid the last-minute dash to the shops when (or if) they reopen, carve out some time to buy your gifts online or use a click and collect service.  As we don't know what kind of restrictions we are going to be left with, you can also get your gifts sent directly to the recipient or you can send through an e-voucher (there are going to be lots of those whizzing around my family this year!)
If you are not keen on going to the shops and are stuck for inspiration for gifts then try and think of things that the person will truly value and that speaks to whatever it is that you know is important to them.  You could make a donation to their favourite charity, buy them a magazine subscription (or check out some other subscription-based services or memberships that they would love), give them the gift of a development opportunity like an online course, a coaching programme or an experience day (although check those expiry dates!), you could make something meaningful for them if you are particularly crafty, or you could simply all agree to buy or do something together when the restrictions are lifted!
I have also decided to 'wrap as I go' this year so that I can get all my gift wrapping done earlier in case the kids end up at home in isolation before they are due to break up from school.  If I manage that I will be very smug indeed because I am usually still wrapping right up to Christmas Eve!
I'd also recommend ticking things off of the present list as and when you buy them or when they get delivered so that you can keep track of where you are with the gift buying, how much you have spent, and what you still need to buy.  
Release the desire for perfection
We all have other responsibilities, on top of our role as Chief Christmas Organiser, and we are all just doing our best with the time and resources that we have at our disposal.  Remember to cut yourself some slack, take those deep, relaxing breaths from time to time, and go with the flow (particularly this year with all its uncertainty!)
It doesn't have to be like someone else's idea of what the perfect Christmas 'should' look like. I know that I have often aspired to decorating my house like a Christmas grotto, producing beautifully gift-wrapped presents with neat bows, and arranging family games and activities where everyone is happily enjoying themselves with no squabbling. Needless to say, this NEVER happens!
This year, I've lowered my expectations somewhat, and perfection is now looking like a tin of Quality Street, a cup of tea, some comfy pjs and Christmas movie binge fest.
If you start to feel overwhelmed during your preparations, then acknowledge that feeling is there (for it is telling you something!) and consider whether you are being realistic with the expectations that you have placed upon yourself. If you know that you are a people pleaser, or you have a habit of comparing your efforts to whatever it is that others are doing, then have a good think about who you are really trying to please or get approval from and why.
Get into the habit of being your own best friend and consider:
What do I need to do to let go of perfection? What boundaries can I set myself?
What is actually important to me right now?
What do I really value about this time of year?  
How do I want Christmas to be?
How can I honour my needs?
Also, take a break from social media if all the Christmas related posts get a bit too much!
If your Christmas 'To Do' list is getting a bit ridiculous then you can find ways to ease the load by:
Being clear about your priorities (this also helps to prevent you from succumbing to other people's priorities) and learn to say 'No!'
Sorting out what is important or urgent and needs to be done from what is not important or urgent (and doesn't need to be done right now or even at all.)  You can then decide whether you are going to Do the task, Drop the task, or Delegate the task. 
Determining how long you actually have to spend on each task and then allocate specific time slots to do those tasks in your day (and stick to the timings you have scheduled!)
Breaking down big tasks into small manageable steps.
Preparing for a task the day before so that you can get started on it right away the next day (then there's no faffing about!)
Don't lose sight of your goals
Making all those preparations for the big day can be incredibly time consuming but, as we know, life goes on afterwards. So, even if you only get 10 minutes here and there to work on the goals that you have set yourself it is still worth doing and is still progress (which all adds up!)
I always like to have something to work towards, or at least to be a little bit excited about, as we head into the New Year so I've been drafting a list of things that I want to do once Christmas is over and have also factored in what I need to keep working on during the next few weeks.
There's no rule to say you have to wait until January to pick your goals up again or even to start something new.  If the time is right for you now then get cracking, keep that momentum going, and just find a way to balance this with all the festivities!
Here are some prompts to help you keep up the good work:
What do I want to achieve by the end of the year (or by early January)?
What do I need to do, week on week, to achieve this?
What can I delegate, scale back on, or say no to, in order to free up some time and maintain progress during the festive period? 
Make time for fun and self-care
There have been many times when I have got to Christmas Day and then felt ill, grumpy and completely fatigued.  To keep that 'Bah! Humbug!' feeling at bay and to be your most fabulous Christmassy self, make sure that you are taking time to fully recharge from the flurry of activities in the day and look after yourself.
You could start by asking yourself each morning:
What can I do today to nourish myself?
(In fact I might put this on a post-it note and place it on my bedside table to serve as a gentle reminder!)
Self-care might be reading a nice Christmassy novel with a warm drink and yummy slice of cake, making sure you get to bed at a decent time each night, listening to a meditation app, doing some Christmas crafts, getting some fresh air and going for a crispy wintery walk outdoors, creating a Christmas playlist to dance around to, or having a Christmas movie marathon.
If the kids are about and/or work is particularly busy, then agree beforehand with your partner (or other family members/friends who can support you) when you are going to have some 'time out' then commit to taking yourself off and having that break! You can also have some 'do nothing' days after Christmas where you just chill out as a family, make no plans, take the day as it comes, and don't give yourself anything taxing to do.
Focus on being present and the feeling of gratitude
I know how easy it is to get so caught up in all the preparations and gift buying that you forget what this time of year is really all about for you.
I have missed out on playing games and watching Christmas movies with my family as I have been too preoccupied with everything else.  For me, this is supposed to be a time for connection, spending quality time with family, showing our generosity and kindness to one another, and ultimately to be grateful for what we have.  So I have promised myself that I will have a more mindful Christmas this time around, to be 'in the moment' with my family, and appreciate all the good things that I have going on in my life.
If your mind is feeling a little overloaded during the festive period then take some mini mindful moments throughout the day. This is where you intentionally bring yourself back to the here and now, tuning into your 5 senses, and focusing on different aspects of your environment. You can also throw yourself into the party games and let that playful, competitive spirit of yours come alive instead of running around trying to do 'all the things'.
There are lots of ways to show your gratitude. It could be saying thank you more often, carrying out random acts of kindness, listing three things that you are grateful for each day, writing thank you letters, or doing a family activity where you each share what you love and appreciate about one another. 
---
I hope your planning and preparations for Christmas all go smoothly. I wish you all a very merry Christmas and a Happy New Year!