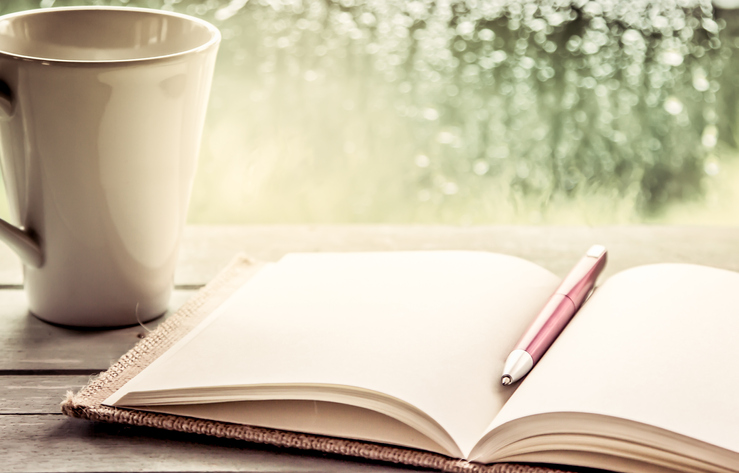 Kickstart your yearly review and find your focus for the year ahead
After reluctantly emerging from my Christmas cocoon, and finding out that another lengthy period of lockdown loomed ahead, I made the decision to pause and take stock of the last 12 months. I wanted to extract any useful 'life lessons' that I could from what was such a challenging time (for many different reasons), to ponder 'What next?' and start the year with renewed focus and something positive to work towards as lockdown continued.
If, like me, you love putting pen to paper and taking time out to journal (or just really want to give it a try) then I have packed this post full of questions that will prompt you to reflect on the last 12 months and think about what you would like to accomplish by the end of the year.
If you are up for setting goals this year then there are also some coaching questions to help you to establish and maintain your motivation as the months go by and consider the practicalities that may be involved in carrying out your goals before you get started on them.
Why bother to do a yearly review?
Well, it's a brilliant opportunity to remind yourself of what you have achieved throughout the year and to celebrate your wins! As well as the highs, you can acknowledge the low points that occurred and consider any important lessons that can been learned from these experiences. Taking the good times with the bad also helps you to gain a more balanced view of what went on (especially in a year that could quite easily be written off!)
During your reflection you will discover a lot about yourself and, in turn, get clearer on what you really want from life over the next 12 months. It gives you a chance to press 'reboot', put your focus on what you can control, to think of something that you really want to aim for and, at the very least, come away with a sense of hope for better days ahead.
Before you begin…
Treat this yearly review as a gift to yourself! You are looking back so that you can create some compelling goals or intentions that you not just want to but MUST move ahead with!
Get yourself in a positive mindset so that you can be your most creative and resourceful self. Before you make a start, listen to uplifting music or podcasts/talks/guided meditations that inspire you.
Set aside a couple of hours or so to do some good thinking or split this time over a few days (as I did because, you know, the home schooling wont do itself!)
Reviewing your year
12 months is quite a long time to review and our memories can become sketchy the further back we go so try and get as accurate a picture of what went on as you possibly can. Pull together any material that can prompt you to remember the events of the past year. Grab your diary/calendar or planner, your journal if you have one, any old to-do lists laying around, goals for the year that you may have written down somewhere or a vision board, or you can scroll through your old social media posts.
Look back over the last 12 months and jot down:
The main events that happened each month (both the high points and the low points)
Any questions or thoughts that these events have left you with
The key lessons that you have learned from these events
Any ideas that come to mind that could move you forwards
Reoccurring themes, ways of thinking or acting, or core values that are present in your journal/diary entries or posts.
Reflecting on your year
Grab your favourite drink and some snacks, find a quiet part of your day and a space where you can get cosy, scribble down your ideas on some gorgeous new stationery (if you like that kind of thing!), and take your own sweet time as your thoughts meander through the months that have gone by.
As with any reflective exercise that involves writing about past experiences (especially if they are difficult) please be kind to yourself as you write down your responses and stop if it becomes too distressing.
You can download both sets of questions by clicking on the images.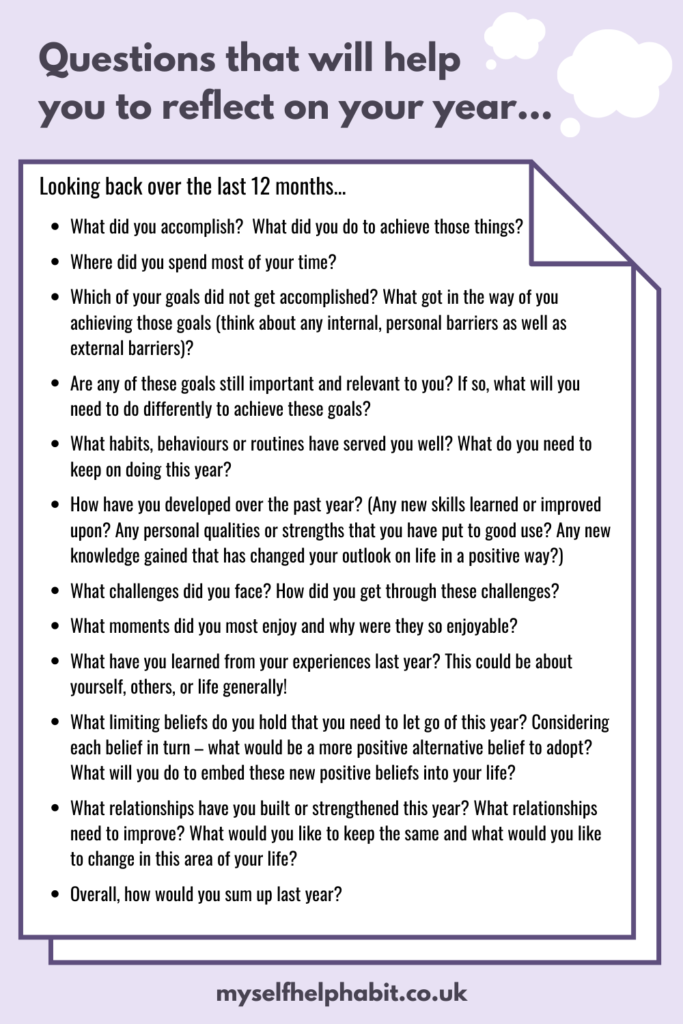 Considering all your answers to the above questions:
What do you know now that you didn't know before?
What is your most loving, compassionate, nurturing self now saying to you as you come to the end of your reflection on last year? I like to tune into my 'inner nurturer' by closing my eyes, being really quiet and putting my hand on my heart.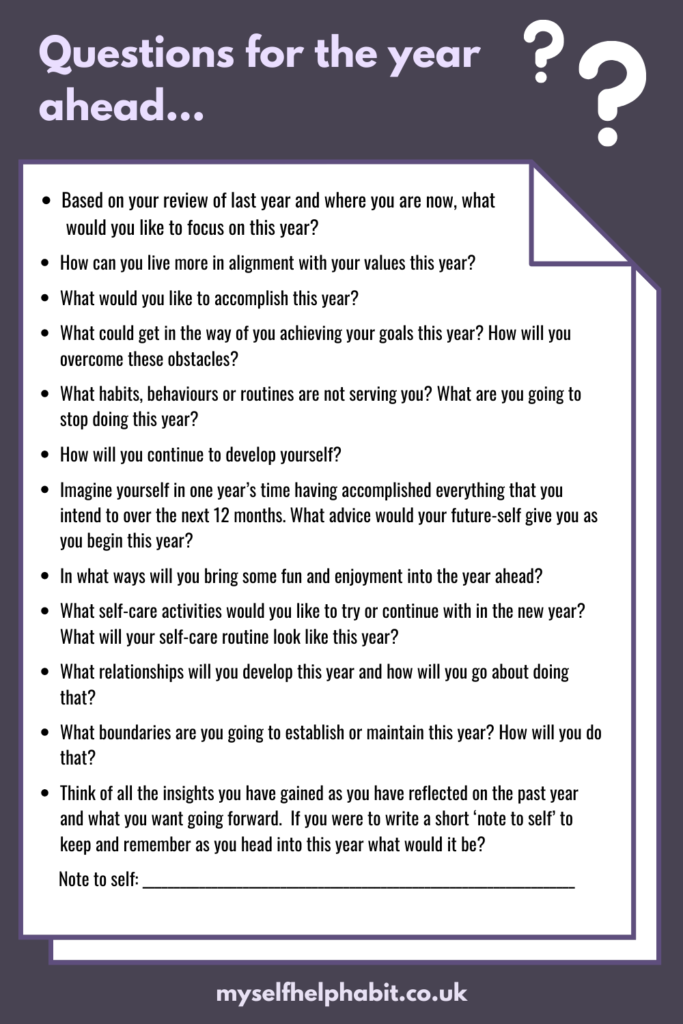 What are going to be your next steps?
After all that reflection, go through your responses with a highlighter pen. Highlight any key points you have made (this may be things you particularly want to remember, reoccurring issues in your life, or actions you may want to take forward.) Now consider any goals or intentions that are coming up for you.
Be careful not to overwhelm yourself with too many goals (I know how tempting that can be!) Think about what you can realistically take on this year or just commit to working on one goal at a time over the course of the year. If you are setting yourself an intention/s for the year ahead, then think about any daily habits, behaviours or small actions that would help to support your intention/s.
Goal Setting
Establish your motivation for wanting to achieve the goals you have set
Take another look at your goal/s. Do you really want to take each of these goals forward? If so, why? How is each one meaningful to you? Which of your values does the goal align with? What difference is it going to make to your life?
Can you really take ownership for this goal? Is it truly your goal or does it belong to someone else (or some sort of societal pressure/expectation)?
Who else will benefit from the changes you want to make this year? How will the changes benefit them?
What do you think would happen if you didn't make these changes?
How strongly do you believe that you are capable of achieving this goal (on a scale of 1-10, 1 being not at all capable and 10 being extremely capable) How could you improve your score further?
Who do you need to be in order to achieve this goal? What strengths and qualities do you already have that you can you draw upon and what might you need to develop?
Consider the practicalities involved in carrying out your goals
Taking each goal in turn, ask yourself these questions:
What do you feel you could realistically achieve in 12 months (or whatever time frame you have decided upon for your goal)?
How will you know you have achieved the goal? What exactly do you want to achieve (be as specific as you possibly can)? How can you measure your achievement?
How much control or influence do you have over this goal? What could you do to increase your level of control or influence? If you have little control over it then consider dropping it or revising it.
What steps do you need to take to get you to this goal (each month, week and even each day)?
What small daily habits could you build to move you towards this goal? When will you carry out these habits? What 'trigger' could you put in place to signal to you that it is time to carry it out?
What resources will you need? How will you obtain these?
What internal (i.e. personal) and external obstacles could you foresee getting in your way? How would you then overcome these obstacles? What will be your contingency plan if or when life gets a bit hectic?
Want to keep yourself on track? Invest in a planner, document your progress as you go along, and review how it is all going on a monthly basis. Remember if you do fall off track, just dust yourself off, remind yourself why you are on this path, and then either get back on it or reassess things (you may need to scale back for a while or amend your goal)
Staying motivated
What rewards could you build in to celebrate the milestones along the way and achieving the end goal.
Put together your own cheerleading squad! Who could support you and hold you to account? Who could you buddy up with to go with you on this journey (i.e., find people who have similar goals to you so that you can cheer each other on and grow together)?
What about the times when you may not feel so motivated? What could you do then to keep the momentum going?
It's fine to adapt your goals as you go along so stay flexible and check-in with your goals now and again to determine how you are feeling about them. You may try something and then realise it's not actually what you want or it's not bringing you as much fulfilment or benefit as you initially anticipated, and other goals may no longer be important if circumstances change.
For more goal setting tips check out my posts on Keeping track of your goals: A step by step plan and Ten Tips For Maintaining Progress Towards Your Goals.
Get clear on your vision! Write a letter from your future-self
Now that you've got some idea of what you want from this year, how about being even clearer on your vision by getting in touch with your creative side and writing a letter to yourself (or perhaps a close friend) as if it is 31 December 2021 and you have achieved everything you want?
As you write your letter think about and include:
Any changes you have made to your life and how these changes have made a positive difference to you (and the people around you)
What you have accomplished in the year
How you are feeling (try and get into that feeling as you write)
Who is in your life and how they are behaving towards you
Keep hold of your letter and take a glance at it every now and then to keep you on track. You can reflect upon what you have written in the letter once the year draws to an end and you are ready to repeat the cycle of review and growth again.