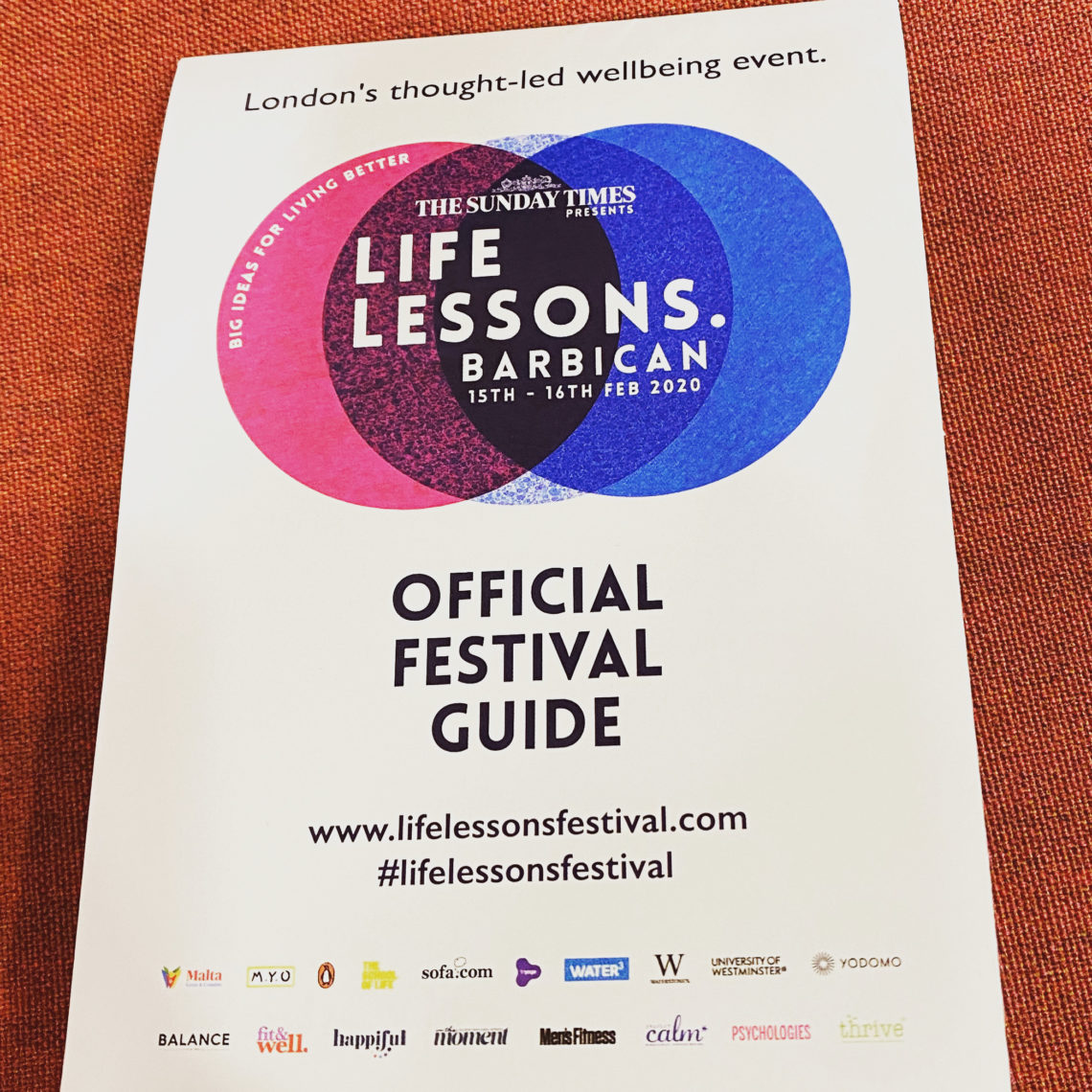 Body confidence, working smarter, showing compassion and the importance of self-belief – Key takeaways from the Life Lessons Festival
The Barbican Centre, London – 15-16 February 2020
It was the first time that I had ventured to a festival dedicated solely to the topic of wellbeing and I was bubbling with excitement at the prospect of listening to, and learning from, the array of high-profile speakers that were listed on the Life Lessons Festival programme.
Before the start of my sessions I took the opportunity to head over to the Waterstones pop up shop where I picked up my free copy of Philippa Perry's The Book You Wish Your Parents Had Read (and Your Children Will be Glad That You Did). Being a bit of a bookworm it was an obvious first choice of destination, and later, after meandering around the shopping village, I returned there to stock up on other titles, which I cannot wait to get stuck into since I selected them based on areas of my life where I could really use the benefit of their experience and wisdom…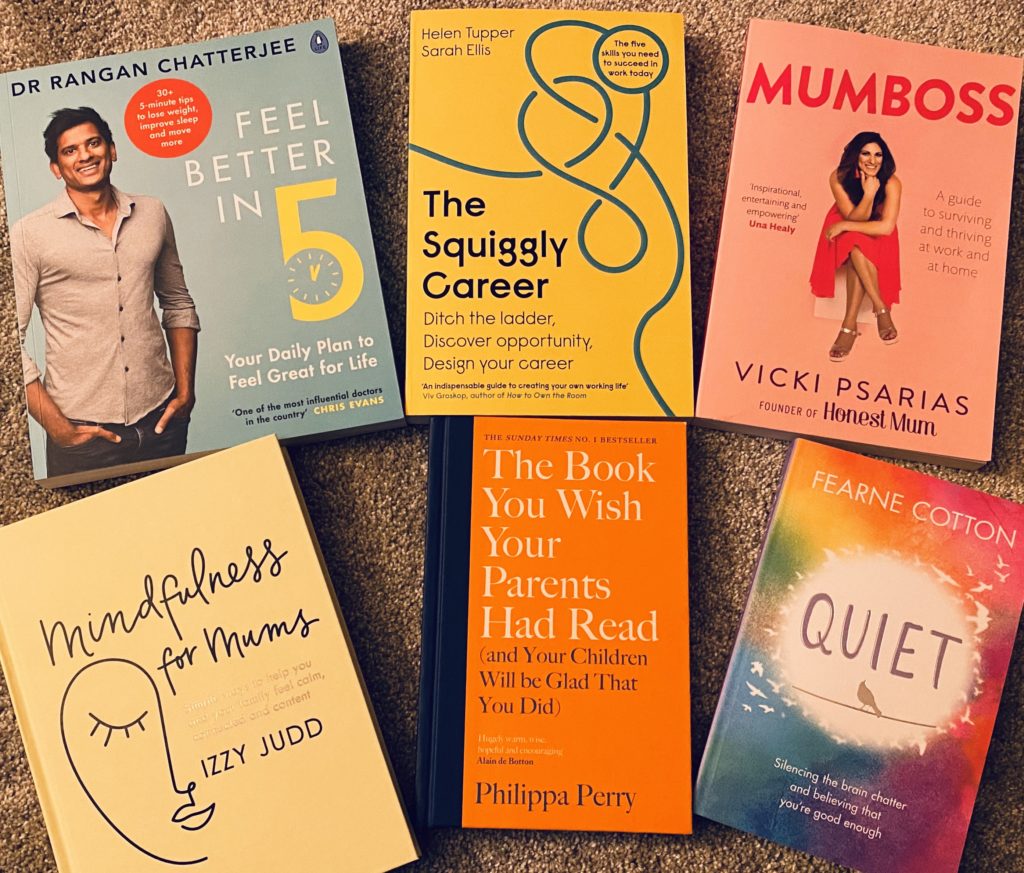 It wasn't all about the shopping though! There were lots of other free drop-in sessions going on throughout the day that you could visit to completely unwind. As I'd set an intention to be more creative this year I dropped into the M.Y.O (Make Your Own) workshop which was full of arty activities such as vision boarding, lino printing, colouring etc. I tried my hand at some calligraphy which I found to be a very mindful, relaxing and focused way of spending the time that I had between talks. I'd love to attend something similar back home in Manchester as I'm beginning to appreciate the therapeutic benefits that creativity can bring to my life.
Now back to the programme itself! Here is an overview of the workshops I attended and my key takeaways from them:
Body Confident Mum
I wish I'd known about the work of Paola di Lanzo, a Barre Teacher, and Clare Bourne, a Physiotherapist, just after the birth of my children. Like many new mums I had trouble adjusting to my post-pregnancy body (especially after my first child). Gone was the lovely bump and I remember looking down (maybe that was my first mistake…) and having this feeling of emptiness. My tummy appeared to be just this mass of wobbly 'stuff' and I had developed full on noticeable stretch marks which just got worse with the birth of my second child. I'll be honest, I didn't like what I saw, it never ever felt like it was really 'me'. I hated how I looked in (and out of) clothes and I felt inadequate, unattractive and incredibly insecure even though my body had done everything it had needed to do and it had given me and my husband two wonderful children. I also felt very alone in this, not speaking of it even to my husband, just getting on with being a mum and pushing those insecurities to the back of my mind where they'd ultimately resurface in feelings of resentment and envy.
These thoughts churned through my mind on an almost daily basis and I didn't know how to deal with them. I'm now happy to say that I'm in a much better place! As my kids are getting older, I am now finding the time to work on my fitness again, have taken a bit more control of my diet, and I try to fill my wardrobe with clothes that I feel good in. However, as Clare and Paola pointed out at the very beginning of the session, body confidence is not all about the aesthetics, it actually starts with gratitude – simply being grateful for the functions our bodies perform and the health the we have right now.
Acceptance also plays a part in helping us to become more body confident, firstly in acknowledging that it's OK to feel insecure and to mourn the loss of what you once were. Lots of people also feel this way, so the advice was to be compassionate with yourself and be open with others. Find those support groups and talk to other mums (this helps lessen some of the isolation we can feel and the 'is it just me?' factor).
As well as acknowledging our feelings about our bodies, opening up about them to others, and being kinder to ourselves, it is also essential to appreciate that bodily changes are a normal part of the ageing process. Ultimately we have to get used to, and accept, these transitions that we go through. We are not the same now as we were 15 years ago and we will not look exactly the same as we do now in another 15 years time.
Paola and Clare discussed another important and related aspect to this point – investing in your 'woman of the future'. This is basically about learning and anticipating (as much as possible) what changes are coming in the next few years and preparing your body for them. So for me, now in my mid-thirties, that will be the menopause and loss of bone density. I can therefore do some homework on what I need to do to keep myself as healthy as possible in spite of the changes that will inevitably be occurring inside and outside of me. Other tips for facilitating body confidence that were shared by Paola and Clare were to:
Exercise regularly (which obviously has benefits for keeping the body and the mind healthy). You may at first think that this is easier said than done but Clare and Paola encouraged us to build our level of activity up slowly and gently (especially when in recovery from childbirth), schedule in time for exercise in your diary or try to add it on to an existing habit that you have. Clare also talked about exercising in micro-moments and shared how she goes around her kitchen doing exercises with a resistance belt on – I'm definitely giving that one a try! Failing that, get your kids involved in the exercise – my boys have tried copying aerobics routines alongside me at home and also find it highly amusing to see me try and get to grips with all the moves! But in all seriousness, they learn to respect the fact that I need to take good care of myself so I can be at my best for them and that taking time out to exercise is a part of life.
Only follow accounts on social media that make you feel good and bring something positive to your life.
A Manifesto on Working Less
This session aimed to question the concept of 'busyness' which in our culture is thought of as something that is simply a fact of working life, that working longer hours means being more productive, and that we should always be available to answer work-related queries regardless of any other commitments in our lives (since technology allows us to do this).
Alex Pang, author of Rest: Why You Get More Done When You Work Less, firstly acknowledged that there are structural barriers that need to be addressed if we are to work less and yet still be productive. He particularly used the example of working parents, who are commonly thought of as individuals with a 'problem' that does not fit the traditional 9-5 model of working rather than turning this around and addressing the inflexibility of some employers and their current working practices (which then make it hard for parents to fulfil their caring responsibilities). I wanted to stand up and applaud this since, as a working mother, it is something I too have observed with much frustration during my own working life.
A change of mindset is required if we are to stop presenteeism and buy into the idea that shorter hours can still equal success and productivity (rather than assuming that someone who sits in the office all day is working hard and is more productive than the person who does shorter hours and leaves work on time). Alex said that it is possible to achieve a shorter working week regardless of your position in the company (stressing it should not be reserved for those in elite positions). He cited examples of where companies had asked employees at all levels of the business to suggest how they could be more productive and what tasks could be automated – sparking a collaboration between employer and employee to retain productivity but with the aim of creating a shorter working week. Alex suggested that employers can also look at cutting out practices that yield no particular benefits and that zap productivity (such as holding meetings that serve no real purpose and go on for too long and expecting employees to constantly check their emails throughout the day).
While there is a need for change within businesses, to allow us to work flexibly and to do our jobs in less hours, what else can we do to build in more time for rest or leisure? Alex shared a couple of ideas that we could implement to boost our own productivity and therefore get more rest:
Set up everything the night before e.g. the clothes you are going to wear, equipment you'll need etc. and prepare for the tasks you have set for the day ahead. This means less decision making in the morning (which can waste time) and ensures that you are ready to get started once you have woken up.
Get up earlier! Sorry this may come as bad news to all those night owls out there like me (and obviously you don't want to burn yourself out by working all night and then getting up early!) The main message here is to do your most important work when you are least likely to be disturbed and to ensure that it still gives you ample time to rest.
Alex pointed out that rest is essential for helping us to solve problems more creatively since it gives us a break from the issues we are facing and allows for a period of reflection so that we can return to our work feeling refreshed and possibly having thought of a few solutions to those issues we were grappling with. Lucy Beresford, a Broadcaster and Psychotherapist, also made the excellent point that rest, rather than being a luxury, is really a fundamental human need and said that we should believe that we are worthy of it regardless of how long we've worked during a particular day.
Re-training the Brain
As well as covering the science behind our reaction to stress, this session offered practical and evidence based solutions to help us to alleviate the stress that we feel when we react inappropriately to something that has triggered our stress response (yet we are not facing any imminent danger or threat). Firstly, it was advised that we need to recognise such triggers and acknowledge that our responses are not appropriate to the actual level of threat we face. It was suggested that talking therapies can help us to work through our responses to such triggers.
Dr Rahul Jandial, Neurosurgeon and Scientist, mentioned that one very effective calming method, that helps you to re-focus, is to regulate your breathing through meditative breathing techniques. He also shared some other simple strategies that can help us to keep our minds and bodies healthy: eating the right kind of diet (such as the Mediterranean diet), taking regular exercise (even walking briskly for 30 minutes a day can help) and, of course, getting the sleep that we need. Dr Rangan Chatterjee, from the BBC's Doctor In The House and host of the podcast Feel Better, Live More, advised that we start by making small changes to our existing habits (i.e. things that are easy to for us to do and that can be easily incorporated into our lives as they are now).
Dr David Hamilton, an advocate for kindness and author of many books on the topic, also recommended Loving-Kindness Meditation as an antidote to stress – this involves thinking of someone you care about (and even yourself) and reciting 'May you be happy. May you be well. May you be safe' which I can imagine is a very uplifting exercise to undertake! David went on to outline the 5 key 'side effects' that are experienced when you carry out acts of kindness (all backed up from outcomes from studies on how kindness positively impacts our minds and bodies):
You become a happier person
Kindness is good for your heart
Kindness slows the ageing process
Kindness improves relationships
Kindness is contagious – it has a ripple effect
Some very good reasons there for showing kindness to yourself and others!
Everything is Figureoutable
Having heard about Marie Forleo's work from a few friends I was very interested in going to listen to her talk and I must say it was an incredibly motivating experience. Sometimes you just need to hear that empowering voice that tells you 'Yes you can!' when the self-doubt creeps in and the excuses start piling up! From the very beginning of the session, Marie, an entrepreneur, life coach and author of Everything is Figureoutable, established the 'rules' that we needed to follow:
All problems and dreams are figureoutable
If a problem isn't figureoutable it's a fact of life or…
You may not actually care enough to solve the problem or reach that dream and that's also OK (you'll just have to find something that you do care enough about!)
I think that the main ideas, underpinning these rules, were to look at what you can control in a particular situation, to believe that you can make change happen, and to identify the practical steps that you can take to resolve situations and reach your goals. Marie implored us to get clarity on what we wanted so we could get down to the specifics of knowing exactly what we were setting out to achieve and why. She also got us off our seats and participating in exercises such as positive visualisation (imagining ourselves achieving our goals and how it'd feel once we got what we wanted) and reciting affirmations (talking to and expressing ourselves in a way that is healthy and positive). Marie empowered us by sharing her mantra that 'Everything is Figureoutable' and encouraged us to make this our own.
Marie concluded her talk with a touching statement that certainly resonated with me and my experience so far of gathering up the courage to take those steps to reach my goals: 'the most powerful words in the world are the ones you say to yourself'.
Note: This post contains no sponsored material or affiliate links and is based on my own opinions, views and experiences of carrying out the personal development activities described above.