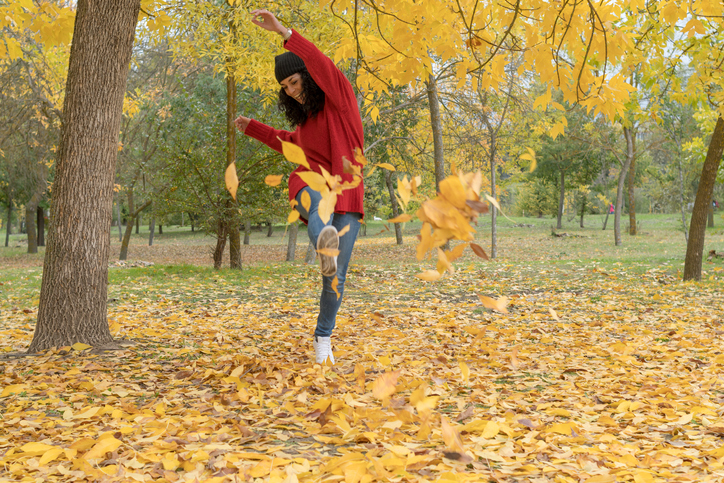 Let's talk about the 'F' word…
Well, I don't know about you but I'm thinking about FUN!
How much of it do you have in your life currently?  I know it can be hard to remember what fun is and how it even feels to have fun after the dire events of the last 12 months! However, it's something that really struck me after looking back over 2020 and realising just how much I had thrown myself into working, studying, and stepping out of my comfort zone (which I can safely say also takes a lot of energy and emotion!) When it came to prioritising some carefree fun that would help to fill up my cup and make me feel relaxed and energised again…well that was seriously lacking!
There is clearly a balance to be had and my scales were out of kilter.  I had tipped a little too much over into 'work, work, work' mode and noticed that I often pushed poor old fun aside.  'I'll have a bit of fun when…' had somehow become my mantra and by the time that 'when' came around I felt depleted, irritable and anxious which kind of made it difficult to then relax and enjoy the fun. 
I knew this was a bad habit that I had picked up after many years of studying and working in tandem and not feeling able to give myself a break unless I had met a certain deadline or standard. I felt like I couldn't have fun unless I had worked myself into the ground first. Sure, it was sometimes rewarding to get completely absorbed in my work and put in the hours that I thought were necessary but not taking the time to unwind, and constantly putting fun on the back burner, meant that things soon got very stressful indeed!
Of course, it doesn't have to be that way. Once I had noticed that this old habit of mine was creeping into my life again and I saw the way it was impacting on me, I decided to do something about it!  I wanted to put fun much higher on my agenda this year, to explore some new hobbies and incorporate more of it into our family routine.
Firstly, I had to start thinking differently about fun and treat my leisure time as just as important as work/study. This meant putting some boundaries in my day for when I would start work and when I would finish.  I also began to consciously prioritise fun, giving myself an evening, weekend or even just half an hour to do something that I enjoyed, where I would be fully present and taking pleasure in whatever it is that I had decided to do.
Not only did I come away feeling energised and recharged, taking a break to do something fun actually gave me the headspace I needed to think more creatively and to come back to my work ready and raring to go with fresh ideas and renewed enthusiasm. From my family's point of view, I was probably a much happier person to be around!
Explore your fun side!
If you feel like there's not quite enough fun in your life, or if you just want to explore your beliefs about fun and think about all the different activities you could do, then have a go at answering these questions and complete the worksheet below:
How do you define fun?
How do you know that you are having fun (what does it feel like to you)?
What holds you back from having fun?
What beliefs do you hold about having fun?
How well do those beliefs serve you now? What beliefs would you like to change so that they serve you better?
How much fun are you getting in your life right now? What would the right balance look like for you?
What activities do you find fun? Was there anything that you loved to do in the past that you would like to rediscover? What have you always wanted to try? Keep an open mind! It may take a spot of courage and a willingness to put those pesky limiting beliefs to one side for a minute in order to attempt something new.  Remember, it's not about being perfect right away, it's just about having a go. Honestly, you should see me getting to grips with anything remotely crafty and hands on, but hey I have a good laugh trying and it teaches me that it's ok to leave perfectionism at the door.
How can you bring some more fun into your life? What would enable you to have the fun you need?
What small steps could you take towards getting the fun you need (either today or sometime this week)?
Download the worksheet and compile your own list of fun activities.  Then when you need some inspiration dip into your list! Perhaps you could commit to doing one or two of the things on your list this week.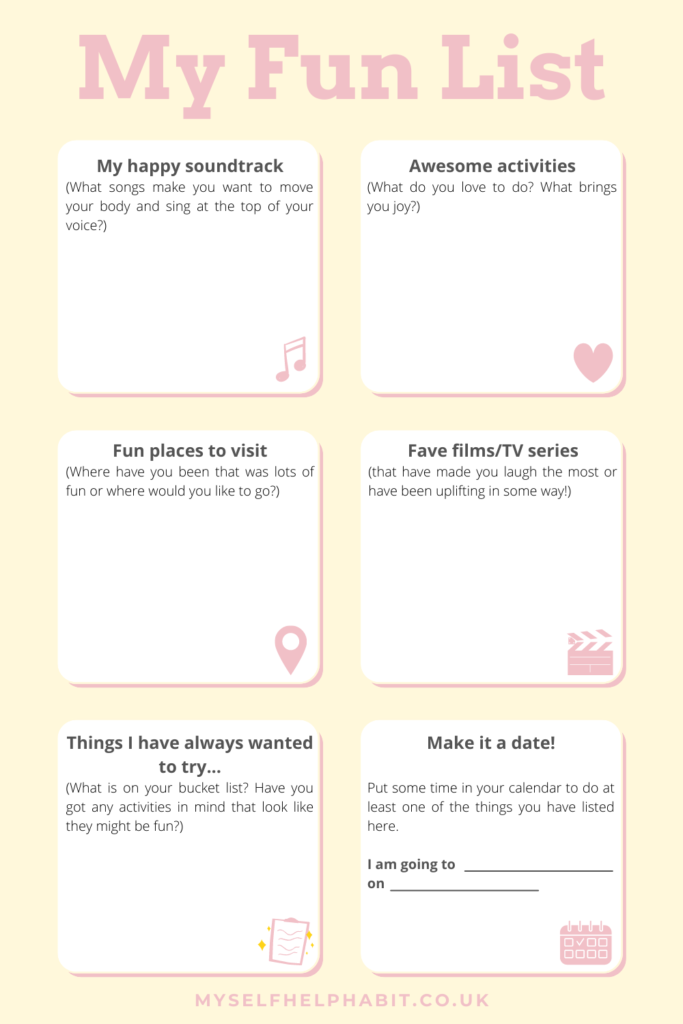 As well as thinking about all the things you would find fun, you can share the joy and involve your loved ones (if you want to!) Get together with your partner/kids/friends and make a list of activities that you can do and places you can go where you can all experience some fun. You might enjoy holding a games evening, playing hide and seek around the house, taking part in a quiz or creative activity while you have a good laugh and a catch-up over Zoom or, once things start to open up again after lockdown, head out for a day at the beach, visit your nearest theme park, or book yourself in for crazy golf, go-karting, bowling etc.
Set the intention to have more fun and schedule it in!
Obviously, there's the wonderful spontaneity of having fun, those moments that just spring up and we are suddenly completely present, absorbed in simply having a good time, and enjoying whatever is happening around us. Like when your favourite song comes on and you dance around the kitchen, having an impromptu pillow fight, running around the garden or building dens with the kids.  While we can embrace those moments when they occur, we don't have to wait for them to happen. We can adopt a more intentional approach and sprinkle a bit of fun throughout our week (now I'll drink to that!)
With this intention in mind you'll get better at spotting opportunities in your day to have fun. You may even think of ways to liven up your chores or other mundane tasks. If I am ever stuck with a mountain of washing-up then my favourite music or podcast usually gets me through it!
Sometimes though my intention to have fun gets completely forgotten about unless I put it in my diary.  So I would recommend making space in your weekly schedule to have some fun and even set yourself a reminder if you need to.  If possible, be specific about what it is you want to do to have fun. I used to just pencil the word 'fun' in and didn't really have a clear idea of what I wanted to do so… I ended up doing nothing! This is where your fun list will come in handy, just pick something off of there and get it in the diary.
Also, try to avoid pushing fun aside in favour of crossing another chore or task off of your To Do list (particularly if it wouldn't be the end of the world if that thing didn't get done that day!) If you find that you don't get around to the fun activity that you had planned then think about why. What prevented you from having some fun? If relevant, what will you do differently next time?
Wishing you lots and lots of good fun! Find me on LinkedIn, Twitter or Instagram or complete the contact form and let me know what is on your fun list and what you manage to get up to. I'm always on the look out for more fun things to do so appreciate any recommendations!