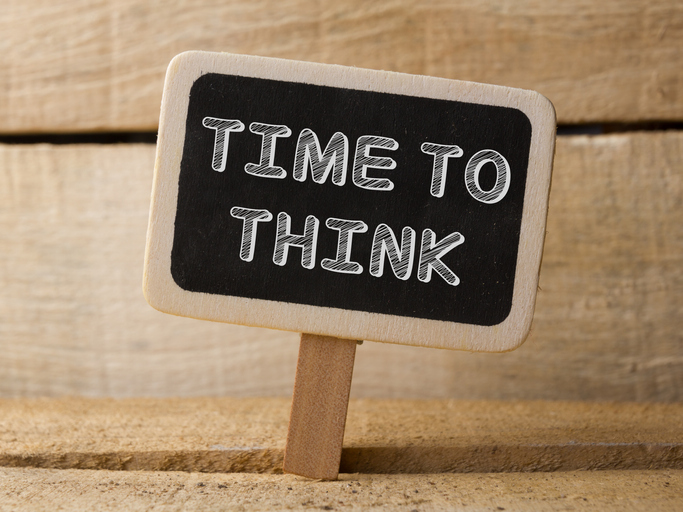 Pause, Reflect, and Discover… What can you learn from lockdown?
As we take tentative steps towards opening up our businesses and communities, as well as making our own personal emergence from lockdown, there will undoubtedly be a mixed bag of feelings and a whole range of different experiences. Maybe you have actually relished the time to pause or perhaps there was no time to pause at all and you were busier than ever. You might have had to spend time recovering from the virus or have endured a long period of isolation to shield yourself and other family members from it. Maybe you have been going through immense heartache and have been grieving over the loss of loved ones, or you may have been trying to cope with another kind of loss such as being made redundant or finding out that your business could no longer operate.
Maybe big plans that you were happily anticipating have now been scuppered and you might be incredibly upset about the opportunities and experiences you or your children have missed out on. You may have been busy juggling working from home with family life and now can't wait to return to your workplace or you may be absolutely dreading the prospect of going back to the office. You might be keen to get back to some kind of normality or perhaps you just want to stay in the safety of your home for as long as possible because you are unsure of how risky day to day activities will now be.
Whatever your experience has been during this time, it has probably made you think about what is really important to you and what life is going to be like once lockdown is lifted. It can therefore be fruitful to take the opportunity to pause for a moment, to process all that has happened and to ponder on this profound experience, so worthy of reflection and rich with many lifelong lessons that we must not disregard as we start moving on with our lives.
Such reflection can assist in building our resilience, serving as a reminder and acknowledgement of the difficulties that have already been overcome and helping us to gain a deeper understanding of what has gone on in our lives during this time. It also aids the extraction of the positive and valuable lessons that can be taken from our experiences, thereby equipping us to handle other events and challenges that may arise in the future.
Reflection also encourages us to consider what life was like before and what life could look like after (and enables us to recognise the opportunities that may be in our midst). This can give us the clarity we need to be able to move forward to where we want to be, possibly making some changes along the way.
Discovery Time!
Find a quiet spot and time in your day, grab a notebook and pen, sit back and consider these questions (or you may have some of your own that you would like to contemplate). As your feelings and words flow across the page, you will get a clearer idea of any actions or positive habits that you could take forward into life beyond lockdown.
If you are interested in some of my musings on the lockdown and all the lessons that I will be taking away from this experience then you can jump straight ahead to my reflections.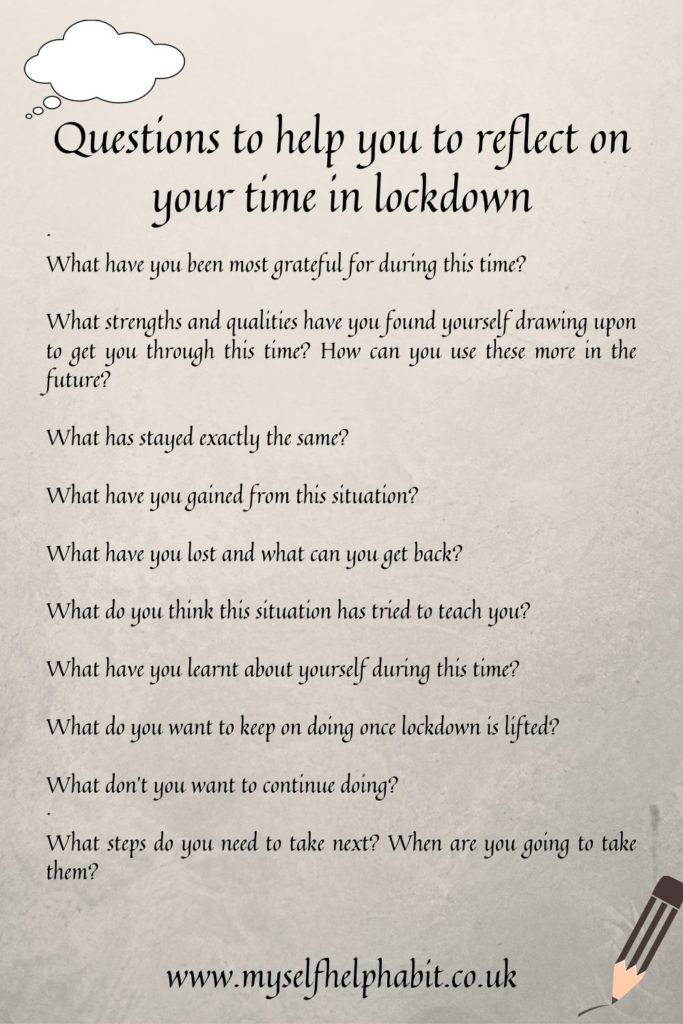 My Reflections
Identify your personal strengths and use them to get you through the day
Being aware of your strengths and actively using them can make you feel more fulfilled and able to take on challenges (which is crucial for a time like this!) There are lots of online questionnaires available that you can complete to get to know your strengths. I had a go at completing the Values In Action (VIA) Character Strengths questionnaire to identify my top strengths and how I could bring these into my day.
One of my character strengths is a love of learning, so I used that in two ways – firstly I enrolled on a few online courses as I knew that would keep me happily occupied during the long days ahead and, secondly, I went and found lots resources to help me understand the curriculum my kids were following (and how I could support their learning). I also know from feedback from others that one of my best qualities is perseverance, so I have relied heavily on this when tackling day to day problems, discovering ways around them and then planning what I needed to do next.
Appreciate the wins in the day
Thinking about and focusing on the good things that have happened in the day is obviously great for your mindset and even the slightest victory can provide a real boost especially during difficult times.
Every time I completed a lesson with my kids I did a mini celebratory dance (well OK in my head at least…) If I managed to network or push myself out of my comfort zone just a little bit I gave myself a pat on the back. In the midst of having the kids running around all day, I also considered it an added bonus just to keep a room relatively clean and tidy, to be able to spend 20 minutes or so writing or reading one of my books, and to get out the house for a walk. A win is a win, no matter how small!
To be grateful for all the things I took for granted in life
This experience has especially taught me to be thankful for everything I have! As soon as basic freedoms were taken away, the busyness of everyday life was removed, some of our most daily essential items suddenly became sparse, and the threat of catching the virus loomed I got a whole new appreciation for the things in life that I simply took for granted.
Here are a few of the things that I have been particularly grateful for:
Health – obviously at a time like this I have valued my health and I am incredibly thankful that all of my family and friends have kept safe and well.
Having enough food in the house (and other essential items!) – the stockpiling really fuelled my anxiety and so every time I came home from the supermarket run I felt relieved and grateful that I had survived the dire shopping experience, had managed to get at least a week's worth of meals and a short supply of toilet rolls, soap, paracetamol etc.
Extra time with my children – Amongst all the chaos and ups and downs of 24/7 family life I have found there's therapy in getting lost in play (whizzing around the house with the Playmobil figures and firing up the imagination with Lego constructions). We have chilled out and watched movies together and found out more about each other's likes, dislikes and values as we have taken our daily exercise around the local area. I've also joined a load of parenting/mummy groups on Instagram and Facebook for a bit of extra support which has helped me to cope with the bickering, the mini meltdowns and home schooling (as well as realising that I am not alone in feeling like this is all a bit of a struggle!) I also know more now than I have ever done about the national curriculum and my children's learning styles.
The workers who have kept our country going – This list is not exhaustive but during this time I have been thinking about the NHS staff and carers who have carried on looking after our most vulnerable members of society, the scientists who have been working to find a vaccine and have provided us with all the latest data, the expertise and strategies that teaching staff bring to our children's learning and those who have been busy adapting to the changes to schooling, warehouse staff and delivery drivers (I have become very well acquainted with our local delivery drivers after late night binge shopping on Amazon or eBay…) and the supermarket/shop workers for keeping the shelves stocked and helping us get essential items into the house.
Appreciating what is on my doorstep – I have really valued just being able to get out of the house and walk around the local area. We have a large local park nearby and have been wandering over there to bask in the fresh air, enjoy the greenery and have a much needed break from the house.
Last but by no means least…
Hairdressers and barbers – never again will I take for granted going to get my hair cut and coloured! Hands up – who has had to go through the nail biting experience of doing their own DIY hair do?
The importance of connection
I feel incredibly lucky that I have had my family at home, even as much as we can sometimes annoy each other, I know that all this time we have had to spend together is truly something to cherish. We have committed to daily evening strolls where we have walked off the stresses and strains of the day, we have shared our fears and frustrations with one another, put the world to rights at the dinner table, and the kids have taught me to forget the outside world for a minute and to have fun with them.
Having to keep our distance from our own parents has also been hard though we knew it was for the best. Although we have had regular Facetime calls or messages pinging backwards and forwards it has somehow made it seem all the more upsetting that we couldn't be with them in person.
Weirdly, in a period of social distancing, I have never been more actively social! After being indoors for long periods of time I have relished the opportunity to stand and have a chat at the supermarket checkout and give neighbours and passers by a smile, nod or wave while out walking. I have spoken to people from all over the world during online conferences and meetings. Many supportive online communities have sprung up and connected me with like-minded people and I have very much enjoyed contributing to the discussions in those groups.
I am now looking forward to when I can meet face to face with friends and once again be amongst groups of people, its going to feel like a novelty and something to savour and appreciate.
For all the dismay and frustration that I have felt when hearing about stockpilers emptying shelves and people blatantly flouting the rules, I have observed truly heart-warming demonstrations of community spirit. I've seen reports of local people rallying together, donating what they can to others, helping with deliveries of food and medicine, and local groups making scrubs for the NHS. I joined my neighbours in giving thanks to key workers by taking part in the communal clapping and strongly felt that sense of unity, each of us making our own personal sacrifices to limit the spread of the virus.
Be flexible and adapt to the situation
As much as my rants of disbelief and frustration in the early days felt like a nice release, I knew that resistance really was futile, and it would be better if I put my energy elsewhere. The outbreak of coronavirus proved to be a huge challenge for every one of us and I had to come to an acceptance that it was here and then learn to go with it, making the necessary changes to my life as the time went by. That meant adjusting to a whole new routine, spending time figuring out what on earth to teach the kids, finding ways of keeping them both entertained when we were on Zoom calls, giving my husband the time and space to carry on with his work, and ensuring that we were not being wasteful with the resources we had in the house.
This adaptation also meant embracing the moment to slow down and simplify my goals. I went through them one by one, sorting out what must still be done, what self-care activities I needed to keep in my routine to help get me through the day and what was now just a 'nice to do' and could be put on hold while I focused on making sure that me and my family were all managing OK.
Seek out and take advantage of opportunities
After being told that I was out of work I knew that I now had a chance to really think about where I was going to go next in my career. I discovered that I didn't need to come to a complete standstill and that adversity can bring new opportunities and growth. So I signed up to the coaching qualification that I had been planning to do for months because it had gone online and was more accessible to me (now that I no longer needed to travel to get to classes or pay for accommodation).
Although going out to work was no longer a feasible option, I found that other opportunities for development were abundant and that I could do a little bit at a time, around the home schooling and everyday chores (or whenever time allowed.) I was curious and eager to soak in all the learning that was available to me and most of all I was excited about being able to apply it and share it with others in the near future. Over the last 12 weeks I have spent many hours building up my knowledge of topics that most interest me through online courses, reading self-help books, listening to podcasts, watching Facebook lives, and participating in webinars (and have loved every minute!)
Stick to a routine and plan in things that you can look forward to
I felt like I needed to hold on to any scraps of normality that existed and knew that the days would soon start blending into one another especially with being indoors all day. I wanted to get through the days with some sort of focus and intention. So I'm happy to say that my 'school lite' timetable has mostly worked well – the kids are clear on what they need to be learning, when it's time to concentrate on their work and when it's downtime (phew, so glad all that effort and organisation those first couple of days was not in vain!)
A weekly planner has kept me on track, enabling me to organise my most important tasks and has ensured that some of my goals are still in sight. I found that putting in some relaxing and fun activities either daily or at least twice a week really helped to lift my mood. I finally got in touch with my creative side which I had vowed to do at the beginning of the year (and probably wouldn't have ever got round to doing), I finished some days by preparing a nice meal with dessert, or I squeezed in a revitalising exercise and pamper session. I also marked out the weekends by having no structure at all, just going with the flow and pottering around doing the things that I enjoyed.
Planning my days and getting on with the activities that I needed to do to keep myself moving forwards also gave me back a sense of purpose, some renewed focus, and ensured that I wasn't spending too much time in my head, dwelling on all the uncertainties of the current situation.
Recharge your batteries
When the chips are down you must do things that nourish you so that you can then recharge and be ready to face your next task or challenge. My house has been a hive of activity with constant noise, distractions and demands from the family which has sometimes left me feeling drained and irritable. So, carving out time in the day to kick back and do some calming activities has been essential for my wellbeing (even if it may not be for very long!) Whether it has been taking half an hour or so to do a paint by numbers, reading a magazine or good book in bed, practising mindfulness, journaling, sitting with a cuppa after breakfast and watching the world go by, or listening to a guided meditation, I can really see the immense value and reward in dedicating some time to hobbies and relaxation.
Focus on the things you can control
When there is so much going on out there it can seem like you are at the mercy of everyone else's actions and decisions but turning attention back to what you can control can help you to feel calmer and more autonomous.
After coming to an acceptance that this was all happening and was not going to go away fast, I had to see what I could control. Although I had lost my job I knew that I could map out the steps that I needed to take move on with my career and look out for new opportunities. I could keep my brain active and my skills refreshed through online learning, I could network with people online, I could take care of my family, gather materials for home schooling, keep my mindset healthy, and familiarise myself with and follow all the official advice on the coronavirus.
Acknowledge the difficulties and be kind to yourself
Since the outbreak we have all been muddling through the best way we can, having not had much time to react to such a turbulent situation or plan how we are going to handle it. We have been desperately trying to manage all of the competing demands on our time as well as our emotions and anxieties.
When I was suddenly told that there was no longer any work for me, I felt a loss of purpose and sense of identity. I have also found it difficult to adjust to teaching the kids, being on 'mum duty' around the clock and trying to pick up the remnants of my career. In this state of limbo it was no surprise that I was experiencing frustration, sadness, resentment and like I couldn't be bothered to do anything at times. I'll freely admit that I have let many things slip – the exercise routine went out the window (as did the diet), on some days the school work just did not get done, and my To Do list has had to be simplified over and over again.
I have just had to acknowledge and remind myself that this time is challenging but temporary. When I have been feeling down or had a particularly tough few hours I have had to take a few deep breaths, accept how I am feeling then concentrate on picking myself up and dusting myself off again, carrying out some self-care and telling myself that I am doing the best I can.
I know that I will need to continue to be patient with the ever developing situation and, as we all take our steps towards the new normal, accept that moving forwards will be a gradual process.